The BIVITEC® screen was designed to handle difficult separations of wet, sticky material. Challenging contaminants such as heavy clays, which quickly cause a trommel or other convention vibrating screen using wire cloth, fingers, or punched plate to blind over, are easily handled by the BIVITEC® at openings much smaller than is possible with any other screen.
In 2013 AEI was challenged to screen high-silica gold ore at a green-field site located in a very wet, humid climate with plenty of clay. Other screen manufacturers had already turned this project down.  The customer had been told that dry screening was not an option; that this would have to be a wash screen application using thousands of gallons per minute of water. AEI was asked to present a solution that would prove the others wrong.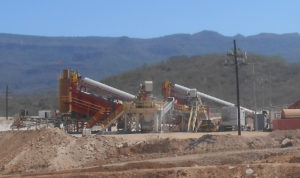 In the spring of 2014 the plant began operation with two KRL/DD(B) 2400×8 BIVITEC® screens (8' x 27'). A jaw crusher feeds the primary BIVITEC® which separates the gold ore at 3/8". The over-size is sent to a cone crusher which feeds a second BIVITEC®, also separating at 3/8".  Finally, the over-size is recirculated through a finishing cone crusher and returned to the secondary BIVITEC®.
The system is handling 250-300 tons per hour of raw gold ore at moisture levels >10% with no blinding or carryover problems. AEI hopes to help this customer increase production with an identical second plant in the near future.
Learn more about the BIVITEC® and its capabilities for your plant.